Gaining a better understanding of customer behaviour in our 'new normal' world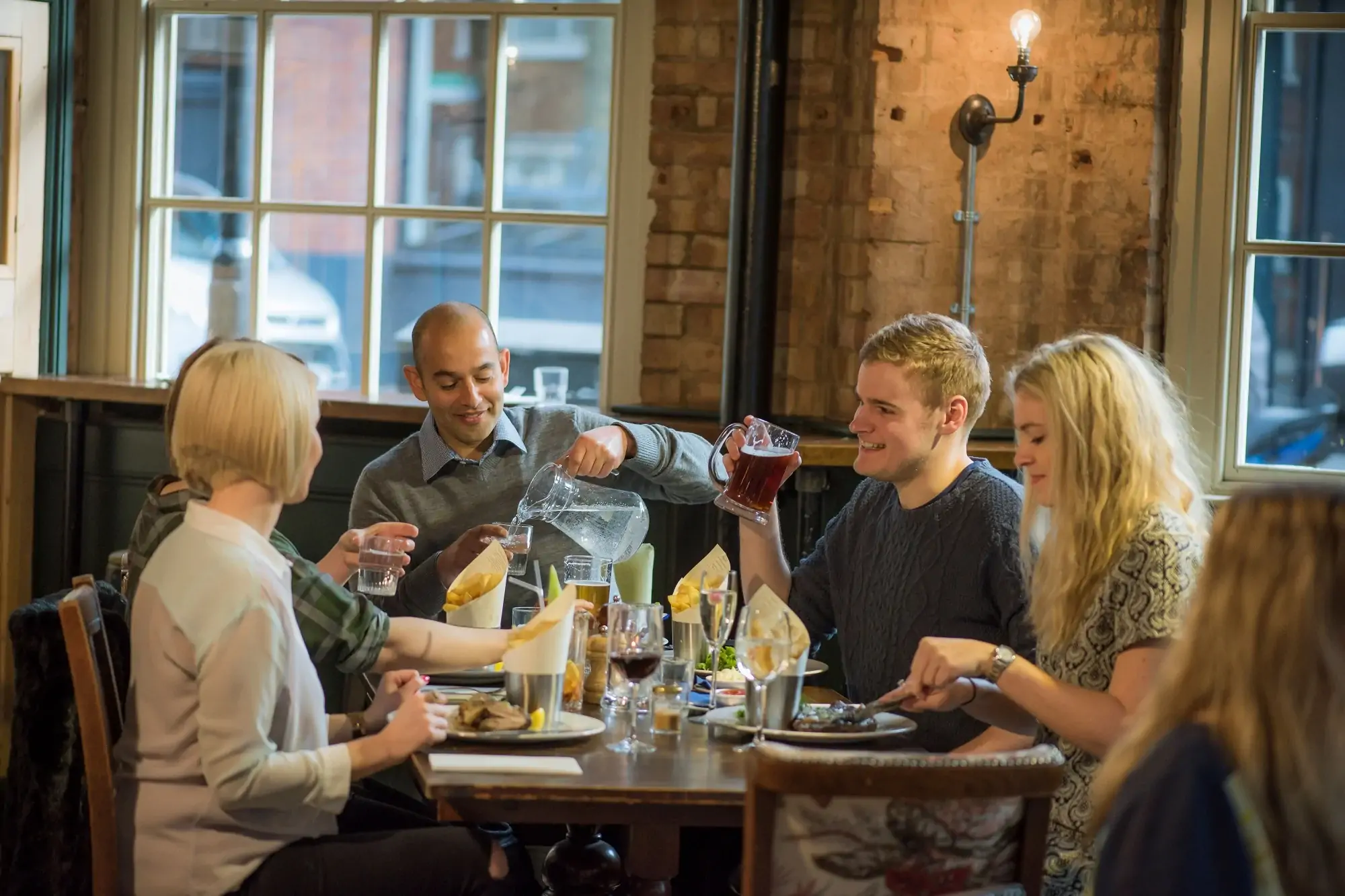 Solution
Apteco FastStats has allowed Greene King to plug gaps in their data, and quickly and robustly test and learn from marketing activity.
Through an integration with their ESP, flags and scores for segment look-alike models, dynamic churn models, and product-led affinity scores, Greene King has been able to tailor marketing communications to individuals and retain customers based on any slight variation in usual visit behaviour.
DCX has worked with Greene King to transform their use of data, learn more about customer behaviour, and improve their use of Apteco FastStats.
Greene King's Apteco FastStats solution houses customer information associated with each pub, restaurant, and hotel across the entire business, including transactional behaviour, marketing delivery, response history, and various loyalty scheme interaction touchpoints.
Given the large number of patrons visiting a Greene King establishment across the UK every day, it was often difficult to understand who is, or has been, in a pub. To overcome this, Greene King moved their historic customer information into FastStats to gain a deeper understanding of customers and their behaviour through:
Unique barcode redemptions at check-out
DCX created two separate customer layers for Greene King:
An individual level that is the true unique customer record
A branded customer level that contains an individual's transaction history, permissions, and interactions specific to that brand.
This design means Greene King can easily understand and measure the behaviour and performance of a customer within a specific brand, as well as understand customers with cross-brand interaction. Not only this, but the company can view a customer's lifetime value as a whole, as well as at a granular level.
Transforming customer data during the Covid-19 pandemic
Due to the effects of the Covid-19 pandemic, what Greene King had previously learnt about a customer and their behaviour wasn't guaranteed to still be true. With marketing activity paused, and pubs closed for an extended period of time, Greene King set out to re-discover everything they could about their customers.
As social restrictions eased, pubs needed to change the service they provided to customers. Both social distancing and NHS Track and Trace policies were logistical challenges that had to be overcome. However, this also provided an effective way to capture customer data.
Previously, the main ways to identify whether a customer had been in a pub was through their Wi-Fi session data, table booking information, personalised voucher redemption, or their signing up to receive marketing communications via a Greene King website.
The pandemic created a huge shift towards using customer booking information – a pre-requisite to ensure a table for lunch or dinner – as a customer acquisition source. On top of this, Greene King's new "Order and Pay" app, which allowed customers to place orders directly from their table – as opposed to table service or at the bar – acted as another valuable source of data. Greene King was able to extract the rich transactional information associated directly with an individual customer dining at their restaurants.
DCX helped Greene King to bring these additional sources of powerful customer data into the FastStats system, bringing the database up to an impressive 17 million customer records, with a net total of 10 million distinct individuals, that spanned multiple Greene King brands.
Enhancing attitudinal segmentation
When we began working with Greene King, they had 6 segments incorporating customer attitudes and preferences and was developed as part of an in-depth customer and consumer research project, going across all brands. A look-up was applied to import them into FastStats based on a postcode. Due to historic data capture across different sources and GDPR policies, Greene King could only match to 43% of the database.
To improve this, Greene King proposed creating a series of segment look-alike models to determine someone's 'best segment'. Using the profile tool, DCX assessed all customers based on the brands they were associated with, how they engaged with those brands, and how they made themselves known. We assigned each customer a PWE (predictive weight of evidence) score for each of the 6 segments, and also assigned them to the 'best segment' via the expression tool.
By restricting the PWE score to a minimum of 1 before assigning a segment, this resulted in nearly 2 million additional customers with an estimated segment.
These customers were then able to have their email imagery and messaging tailored to suit their predicted segment. This resulted in a 4% uplift in email engagement among the group with an assigned segment versus those with no segment.
The engagement uplift was even more impressive when looking at specific brands:
Reducing database churn
Greene King's Data Retention Policy means that they have set timeframe in which they can keep a customer engaged with the brand.
The Government-backed "Eat Out to Help Out' scheme, launched as the UK was starting to open up and begin to live with Covid-19, provided an influx of customers and proved to be a great source of new customer data. However, this data capture method had the potential to turn into a large ticking time-bomb of customers that could lapse and be deleted if Greene King couldn't continue to keep them engaged.
Having identified this risk, and also an opportunity, Greene King proposed a campaign approach to retain as many of these customers as possible. DCX developed a dynamic churn model within FastStats to identify the exact moment a customer's behaviour was statistically different from their usual behaviour.
The model is built within the expression tool and reliant on the aggregation functionality available within. The various thresholds within the model are re-calculated on each build and assess the risk level for each individual customer. These flags are then shared directly with the ESP and a communication is triggered at the earliest opportunity a customer deviates from their "norm" behaviour.
The flexibility the tool provided meant we could build a tiered structure to the model, as well as generic rules for customers reaching the end of their tenure on the database unless rescued. This removed complexity of managing multiple variables. We were able to flag customers based on their level of risk, and also how sure we were of the level of risk. Sometimes customers didn't qualify for the model, as a result of not having enough touchpoints. In the same expression, we were able to just apply recency rules to the interactions they had carried out, so every customer was kept as engaged as possible.
DCX duplicated this model to work across:
Visit behaviour - to ensure Greene King can react to the variety of customers attending different pubs
Email engagement - to ensure Greene King can react to customers who are becoming less engaged with emails over time
By implementing the model and comparing with the legacy blanket 90-day approach, Greene King was able to identify the customers that were potentially going to be contacted as a "lapser" at the wrong time.
Customers at risk receive creative with an enticing subject line as well as engaging content covering a breadth of menu or event options.
Improving content relevance
Keeping content as relevant as possible for customers drives engagement, database retention and, ultimately, revenue. We helped Greene King create a series of affinity scoring models that looked at behaviours such as 'Sunday Lunch', 'Breakfast', 'Weekend' and 'Evening' sessions, and scored them on their current likelihood to be interested in that behaviour.
By heavily utilising the aggregation functionality within the expression tool, an exponential decay methodology was applied to score customers on this behaviour.
Frequency and recency of the behaviour, as well as the number of different brands involved, meant that the highest scores were retained for longer among the customers that visited most frequently during those times.
Utilising the integration with the ESP meant that the scores are shared and refreshed daily and made available for campaign personalisation and content prioritisation.
From a campaigning perspective, the affinity models drove increased engagement among certain cohorts of the customer base.
Compared with a control group click-through rate, customers with a higher affinity to 'Breakfasts' had a 260% increase in engagement. Those with a higher affinity to 'Sunday Lunch' had a 210% increase in engagement.
200

%

improvement in email engagement
400

k

saved in unnecessary customer offers
3.3

M(£)

of potential revenue loss avoided
Results
Together, Greene King and DCX have transformed the wider Greene King business' use of data, helped them to learn more about customer behaviour, enhanced segmentation, and reduced customer churn – all through the power of Apteco FastStats.
The results speak for themselves:
24% increase attitudinal segmentation reach, leading to 4% improvement in email engagement for customers with an assigned segment vs. those without
200% improvement in email engagement thanks to new affinity scoring models
£400k in customer offers saved and £3.3 million of potential revenue loss avoided by reducing database churn