Improving the customer experience through digital innovation for major home builder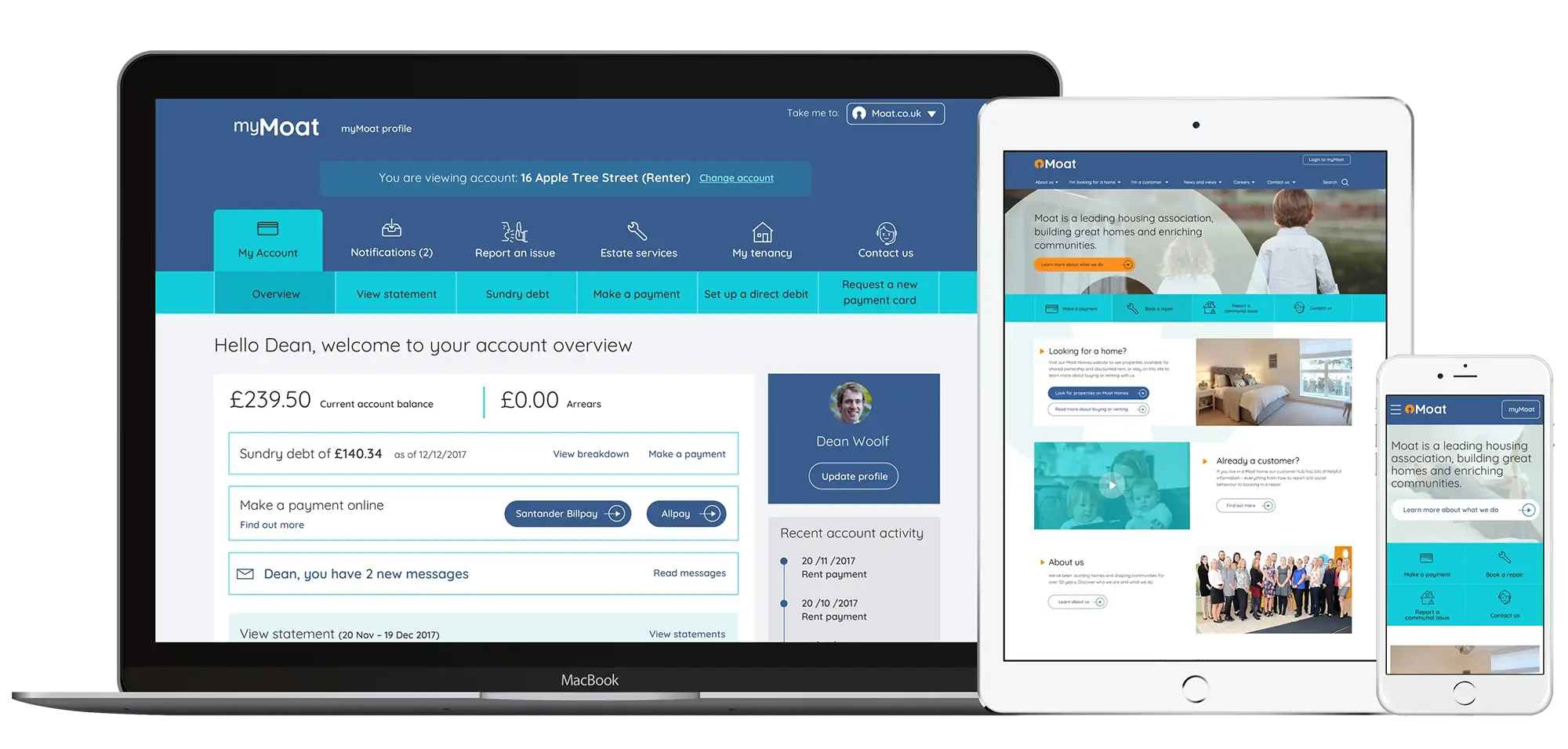 Solution
The initial stage of the project was to define Moat's long-term online digital vision and business goals they wanted to achieve.
Collaborating with the Moat team through workshops and stakeholder sessions, we plotted the key needs and pain points of different customer types at every stage in their journey, all the way from looking for a home, through to moving in and beyond. This gave us a clear set of user requirements both for the website and for MyMoat, the customer portal area which sits behind a log-in.
From this, a solution design and website component list was created for both the corporate website and customer portal. We also helped Moat adapt the branding and visual identity for digital, ensuring consistency with their offline assets.
From the outset of the project, we looked at ways to deliver the best value to Moat - from combining stakeholder meetings in the discovery phase to deciding that delivering UX and design across both the corporate website and customer portal would be most beneficial to the project.
Also important was defining a long-term technical architecture able to deliver against current and future business needs, like GDPR and security requirements.
The DCX team acted as technical consultants on the project, supporting Moat's product licensing agreements, providing business analysis, and liaising with and providing training and support for third party solution providers such as Sitecore and Rackspace.
DCX and Moat worked in complete collaboration throughout the process, with our strategy, design, and technical consultants working closely with Moat's in-house web developers.
Working in partnership with Moat meant we could upskill their in-house teams in content management and new technology platforms. This enabled their developers to build their customer portal, MyMoat, allowing them to be self-sufficient. This close relationship meant the combined teams were all engaged and decision making from key stakeholders happened quickly to maintain momentum and broad business buy-in.
43

%

increase in session duration
54

%

increase in page visits
56

%

reduction in bounce rate
Results
After a soft launch, www.moat.co.uk and the MyMoat customer portal went live to the public, delivering an immediate increase in digital channel shift, customer engagement and mobile usage across the two platforms.
Customer log-ins and self-service transactions increased month on month after launch.
The increase in visits and engagement is a positive response to a much simplified information architecture and improved content.
The new website offers users clear paths to the information that's relevant to customers with navigation titles such as 'I'm looking for a home' or 'I'm a customer', which allows visitors to find the content they're looking for quickly and easily.
Moreover, the customer portal is driving efficiencies for Moat, with the number of customer log-ins up by 64% and self-service transactions on the increase.