Acquia Flight Path
With the Acquia Flight Path assessment, you get a Drupal 7 to Drupal 9 migration report that identifies the scope of migrating your site from Drupal 7 to Drupal 9, and includes an in-depth content migration analysis, along with insights that show you exactly what to expect in your migration and how to prepare for it.
The Flight Path report will save you both time and money in discovery work. It will help you understand how long your migration journey would be. And it will indicate what resources you need to get there.
Based on using the Acquia Migrate Accelerate tool, Flight Path enables DCX as your chosen Drupal 7 migration partner to quickly identify any challenges with the migration, and deliver an efficient, error-free transition.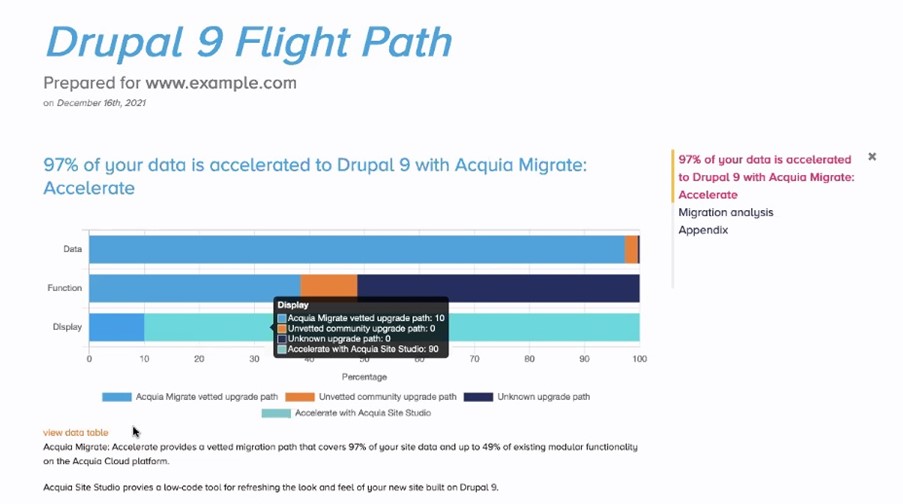 The Flight Path assessment will:
Reveal how much of your migration path can be sped up with Acquia Migrate Accelerate
Detect key upgrade and migration scope for your technical team to consider
Take stock of content, data, and modular functionality to evaluate for migration
Save cost in discovery work, which could be invested into feature enhancements providing you a superior experience for your customers
Acquia Flight Path Benefits
Organisations running their website on Drupal 7 who take advantage of our Acquia Flight Path assessment will be able to:
Reduce migration content analysis work from 2 weeks to 1 day
Accelerate migration discovery work from 6 weeks to 1 day
Save up to money in discovery and analysis work
Acquia Flight Path is a real game-changer for brands looking to migrate to Drupal 9.
Why Migrate from Drupal 7 to Drupal 9 with Acquia
If you weren't already aware, Drupal 7 is coming to the end of its life soon – in 2023.
This means that support for Drupal 7 will end.
Over half – around 55% – of organisations using Drupal as their content management system are still on Drupal 7. This means thousands of organisations around the world have a website running on old code that won't automatically get new features, and will quickly start to incur issues.
Time is running out.
There's never been a better time to consider migrating to Drupal 9. Drupal 9 makes work easier for content creators and site builders. It allows you to reduce your total cost of ownership with tools to support configuration management. It comes with extended security support and six-month feature releases.
And with Acquia, you get all the amazing things other organisations already take for granted when it comes to superior digital experience for their customers, such as simplified content creation and management, multi-channel marketing automation and personalisation, unified data with a best-in-class customer data platform, and much more.
How DCX can help
We're one of the select few Acquia partners who have been named as a Flight Path partner.
This means we've been identified by Acquia as a skilled and trusted expert when it comes to re-developing and migrating your Drupal website.
With over 20 years' experience helping brands to migrate and upgrade their web estate, transforming the digital experience they deliver for their customers, we're the Acquia partner you need to seamlessly and smoothly migrate from Drupal 7 to Drupal 9.
To learn more about Flight Path, to book an assessment, or to discuss your migration from Drupal 7 to Drupal 9 in more detail, just get in touch.