Digital smart guider for leading energy company to help customers self-serve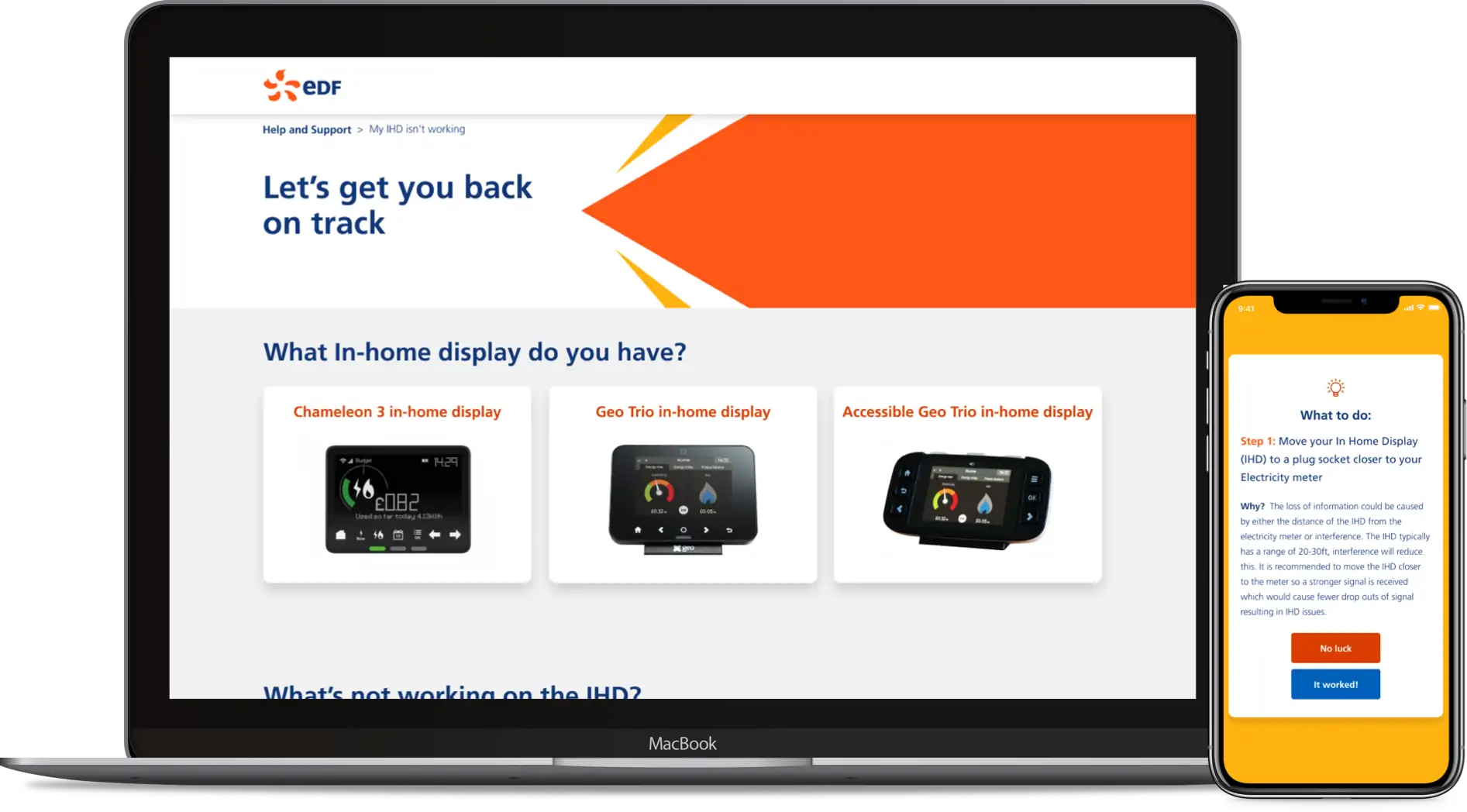 Solution
We suggested a low-cost, scalable MVP to support the business case, creating a simple troubleshooter that sat outside of EDF's site to expedite speed to market and simplify the need to integrate with EDF IT systems until the business case was proven.
Working in an agile way was essential for bringing a prototype to market quickly.
By employing a rapid product development cycle, we created the MVP with rigorous testing of real customers and a lean team building code at low fidelity, before moving towards high fidelity.
The solution is a simple, single-page web application built on Drupal, which provides internal site administrators the ability to easily add/update content when needed. We also added basic tagging and Google Analytics, and created a dashboard so that use, performance and usability of the troubleshooter could be measured.
The project was completed in just six weeks - from our first meeting with EDF to understand their requirements, through to UX, design, build, testing, and go-live.
This rapid product development cycle employed a lean team across both businesses, ensuring regular touchpoints and cadences to keep track of progress. The plan was to then let the data roll in and re-group after one month to assess the success of the solution.
1600

+

users in the first 3 weeks
78

%

of users would re-use the guide
3.25

mins

resolution time
Results
Within the first month, the impact of the solution was very promising, with over 1,600 users - 59% of which completed the form and were able to resolve their issues.
On average, users were able to find a resolution within 3.5 minutes.
Customer feedback has been incredibly positive with 78% of people who completed the form said they would use the guide again.
We look forward to working closely with the EDF team to further optimise the solution and see how it can be rolled out across other business areas.